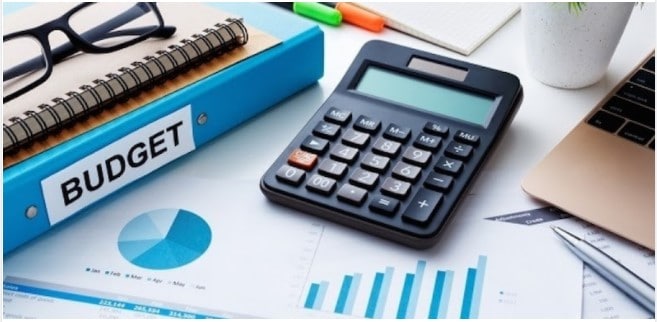 In today's dynamic financial landscape, mastering the art of business budgeting is essential for financial professionals, whether you're a personal financial planner or a corporate financial analyst.
Budgeting forms the cornerstone of effective financial planning, providing a strategic roadmap to achieve financial objectives. Be it for personal finance or corporate operations, budgets act as invaluable tools, guiding financial decision-making and cost management. In the realm of businesses, budgeting software serves as a powerful ally, simplifying the complex task of budget creation, tracking, and analysis.
What Is Business Budgeting?
At its core, a budget is a device that is used for planning and governing business activities. The business or corporate budget has existed for more than a century.
A corporate budget is a comprehensive estimation of what a business' expenses and revenues will be for a given fiscal period. Many times, people think of a budget in terms of expenses, but that is only part of a budget.
Every business budget will include both revenue guidance and expense estimates, each being derived from historical results adjusted for assumptions about the future. Budgets are a major priority for finance departments, and every business requires a budget, to some extent, in order to run efficiently.
In today's environment, business budgeting is one of the primary activities in financial planning and analysis. FP&A is an approach to business planning, budgeting, and forecasting that integrates all functional areas of a business and links its strategies to its plans, then monitors how the plans were executed. Budgeting is one of the pillars of FP&A.
Modern developments in the software are allowing businesses to develop budgets with greater confidence and accuracy. Many ERP systems utilize software applications that can integrate budgets with performance monitoring, allowing for greater visibility on how well a budget is being followed throughout the period.
Steps in the Budgeting Process
After choosing the business budgeting software tool that fits your organization based on size, budget, and most important criteria, businesses need to follow these steps:
Communicate with management
Establish goals and targets
Develop a detailed budget to support goals and targets
Compile and revise the budget model
Review the budget and make changes as needed.
Approve the budget
Although some budgets might include additional steps, almost every budget will follow this framework.
9 Best Business Budgeting Software Tools for 2023
Budgeting software for businesses range from simple, a-few-dollars-a-month software focusing exclusively on budgeting, all the way up to complete financial planning for enterprises. Because of that, we broke it down into 3 categories: Budgeting software for small businesses, medium, and enterprise.
Top 3 Business Budgeting Software for Small Businesses
There are many more options for budgeting software for small businesses when comparing it to the amount of software options for medium or large businesses. This is due to the much larger number of small businesses that exist, the significantly lower prices for small business budgeting software, and the high competition in this category.
(While the term "small business" can have a different definition depending on the country or industry, for our purposes we define it as a business with less than 50 employees or less than $1 million in revenue).
Some small or local businesses even use personal or household budgeting software for their needs, while others need more high end software for their complicated budgets. Here we cover the top 3 that give a good range in price, ability, and integrations.
Note: This list does not include software such as Xero or Freshbooks that come with budgeting abilities because it isn't their main focus. While it might be enough for some companies, we look specifically at budgeting focused software for small businesses.
1) Budgyt
As the name suggests, Budgyt is a budget-focused software, but it also covers financial planning through organizing and managing financial data. Although Budgyt can be pricey compared to other small business budgeting software (starts at $199/month) it is one of the best out there and receives first place.
The intuitive interface and simple dashboard makes it easy for collaboration and centralized data to be shared across the board, which is perfect for small businesses who have multiple people working on finances. Budgyt is designed for small to medium sized businesses (and nonprofits as well) looking to streamline their budget planning.
Important features:
One of the most amount of 3rd party integrations out of any small business budget software.
Forecasting feature with advanced planning capabilities.
Multi department collaboration and centralized data.
5-10 days implementation for most businesses.
Pricing:
Budgyt has three pricing plans ranging from $199/month to $699/month. They also have discounted rates for nonprofits.
2) Scoro
Scoro is also an excellent budgeting software for small businesses, as it combines budgeting features with other tools to manage the whole company's finances in one system. However, it is not as comprehensive as Budgyt due to the lower number of integrations and less complete forecasting abilities. The price reflects it as well (far cheaper than Budgyt) and Scoro is still able to cover most of your budgeting needs if the biggest focus is on the budget alone.
Scoro also allows you to manage expenses and resources, analyze financial data, and manage project budgets all in one dashboard. This, combined with its unique project management tools, makes Scoro perfect for companies looking to manage their entire financial workflow in one space.
Important features:
Big focus on KPI dashboards and metric settings.
Sharing abilities on a centralized database makes it good for multiple contributors.
Some of the best project management tools for budgeting software.
Pricing:
14-day free trial.
$26 to $37 per user per month depending on requirements.
3) PlanGuru
PlanGuru is a great budgeting software option that ranks in between Budgyt and Scoro in terms of pricing and abilities. PlanGuru focuses slightly more on forecasting and strategic planning than the rest, and includes features such as financial ratios and cash flow projection for increased planning abilities.
Although it still has a good budgeting function, PlanGuru's forecasting and planning emphasis makes it a middle of the line budgeting software system with middle of the line pricing.
Important Features:
Compatible with QuickBooks, QuickBooks Online, Xero or Excel.
Budgeting and forecasting capabilities go up to 10 years in the future.
20+ Standard Forecasting Methods w/ Custom Formula Builder.
Pricing:
$99/month + $29/ month for each additional user.
Top 3 Business Budgeting Software for Medium Sized Businesses
Although the difference between small and medium sized businesses is sometimes a blurry line, we made the distinction by dividing it into those companies that are looking for a more complete budgeting and finance software (medium sized businesses) and a standard, budget focused software (small businesses).
That being said, there are some medium sized businesses with simple budgets and cash flows that will do perfectly fine with a cheaper, budgeting-only solution, and there are some small businesses with complex finances that need a much more complete budgeting and financial planning software.
1) Datarails
Datarails is an FP&A tool that provides a complete financial planning package: Budgeting, forecasting, scenario planning, automation, real time dashboards, and drill down capabilities are some of the functions that Datarails provides that improves the finance department.
Datarails is also the only completely native Excel FP&A tool on the market, which allows for easy integration and an easy-to-use platform. The centralized platform and audit control are perfect for finance teams that have multiple users who rely on the data for budgeting and forecasting. It also specifically caters to medium size businesses and has some of the most competitive pricing for FP&A solutions of any size.
Important Features:
Ability to continue using your own Excel models for quickest implementation.
Dashboards updated in real time with the ability to drill down to the granular level.
More than 70 integrations to conduct the most accurate and data driven decisions.
2 weeks for full implementation.
Pricing:
2) Mosaic Tech
Mosaic Tech is a great budgeting and FP&A tool for medium sized businesses. It streamlines how you produce budgets and analyzes your financial data. In addition, it has great financial forecasting abilities and consolidates data across many different sources.
While Mosaic Tech and Datarails have many similar features, the biggest difference is that Datarails has a native Excel platform while Mosaic Tech essentially transitions the finance team away from Excel. This ends up taking far more time as the finance team needs to learn a new platform. When integration is complete, the automation and consolidation of data sources (HRIS, ERP, accounting, etc.) makes for improved decision-making in regards to budgeting and forecasting.
Important features:
Easy to consolidate data across multiple platforms.
Monitor budgets and track budget performance per project and overall including projects completed, in flight, and upcoming.
Maps, modifies, and customizes data.
Pricing:
No pricing available online – customized quotes only.
3) OneStream
OneStream is also an excellent budgeting and FP&A platform for medium sized businesses and it provides automation, KPI tracking, and cash management. Although the implementation time is slightly quicker than Mosaic Tech, the budgeting function is less robust.
In addition to medium sized businesses, OneStream also works with enterprise level corporations and focuses on financial and operational insights to support faster and more informed decision-making. Its biggest strength is data analysis and in-system reporting.
Important Features:
Automate and accelerate the financial close and reporting process.
Personalized dashboards and KPIs.
Multiple Access Permission Levels (Create, Read, Delete).
Pricing:
Implementation fee.
No pricing on their websites – customized quotes only.
Top 3 Corporate Budgeting Software for Enterprise Level Businesses
Similar to mid sized businesses, large and enterprise level businesses usually need more than an exclusively budgeting software. This is where FP&A software comes in. Many of the companies here have similar capabilities to those in the medium size business section, but the price and functions are more suited for extremely big corporations with large amounts of data such as Dell and Coca Cola (who use Workday's software).
1) Workday Adaptive Planning
Workday is the leading enterprise level solution software for both budgeting and FP&A. The name, number of customers, and reliability, make it an obvious choice for large companies and enterprises. However, the expensive pricing plans and long implementation time create a barrier for small and medium businesses.
Workday is a budgeting and financial planning software designed to help finance and FP&A teams streamline their workflows, consolidate any number of spreadsheets and other data sources, and improve how they use their data to budget and forecast. Workday also provides excellent HR and other Workday native software that is easier to integrate into companies' financial planning in comparison to third party integrations. This can help with data formats, access, and complete reliability.
Important features:
Comprehensive budgeting and forecasting tools including revenue management, capital management, expense management and financial statements.
Easy to produce balance sheet and cash flow data with a few clicks.
Automated board and financial reporting.
Pricing:
Implementation fee.
No pricing on their website – Customized quotes only.
2) Prophix
Prophix is a corporate performance management (CPM) software that provides organizations with tools to gather, analyze and report their financial data, including advanced budgeting. Prophix gives companies all the tools they need to gain complete control over the budgeting process and simplify it as well.
Prophix is a rare enterprise FP&A software that puts an emphasis on budgeting. It is also one of the only solutions that has both cloud and on-premise solutions.
Important features:
Can drill down into data to a granular level.
Clean interface with clear visuals in the form of graphs and charts.
Advanced sales performance forecasting Including reports and dashboards, self-service analytics and a forecasting engine to drive sales performance.
Pricing:
Customized quotes upon request.
3) Jedox
Jedox is an integrated business planning FP&A software that puts an extra focus on business intelligence. Jedox is a great forecasting and planning tool and while its budgeting function is also quite robust, it ranks slightly behind Wokday and Prophix.
But that doesn't mean that its budgeting function is lacking. Rather, Jedox empowers companies to analyze historical data and combine it with market insights and trends to plan, forecast, and budget smarter. This saves time and gives the ability to streamline any business process while collaborating with different departments for the most accurate results.
Important features:
Financial planning for short and long term, meant for enterprises with long term growth expectations.
Direct links to many third party integrations and real time updates.
Multi currency management and detailed audit trails makes it ideal for international corporations.
Pricing:
Jedox doesn't provide pricing on their website but gives customized quotes based on different option plans.
Conclusion
There are many different types of budgeting software, and depending on your company's needs, a cheap, budgeting-only solution might cover everything you need. However, more complete budgeting and financial planning software cover more complete financial management needs including forecasting, scenario planning, automation, and real time updates, all of which go hand in hand in budgeting. Datarails does just that and is a great option for mid sized companies looking to upgrade their budgeting abilities and save dozens of hours per month.